Are you wondering about the residual odor post-cooking in the kitchen? There is a remedy for that. By sucking in the bulk of the fumes created while cooking, the finest ductless range hood will help keep the air quality in your home safe. The best ductless hood scoops it up and directs it to the outside via an airway vent.
Convertible hoods are more adaptable and may be installed in a ducted or ductless system. Ductless range hoods are ideal for those who live in flats, condominiums, or other places without a chimney or suitable exhaust capabilities. Most single-purpose ductless hoods may be mounted beneath the cabinet above the stove. This means additional options for mounting the hood, such as beneath the cabinet, on the wall, or on a kitchen island ceiling mount.
Learn about the top 5 best non-ducted range hoods.
Benefits of using the Best Non-ducted Range Hood
Easy Installation
This is the most significant advantage of the best ductless range hood. It eliminates the clutter that comes with installing an external vent and may save considerable time and labor. They may be put together in as little as 10 minutes. They may be positioned anyplace in your kitchen because space and size are not a concern when installing one.
No Carbon Monoxide Hazards
Ducted hoods draw in air and discharge it outdoors, which can cause pressure issues and possibly a carbon monoxide leak. If you have natural gas equipment in your home, such as a gas-fired heater, it may flash over or spill its pollutants back into the house. However, because ductless range hoods recycle air, you don't have to worry about causing harmful air pressure within your home.
Avoid Energy Loss
There is energy loss with a ducted range hood since conditioned air is released outdoors. Aside from that, extended vent hoses might also leak. When the external vent cover is not correctly sealed, outdoor air spills into the house. In comparison, a non-ducted range hood is a more energy-efficient option.
5 Best Ductless Range Hood List
Hauslane WM-538 Wall Mount
This wall-mounted ductless range hood offers strong suction and is suitable for large-scale cooking. The renowned model can handle smoke, oil, steam, and other culinary effects. A chimney extension is available separately and is ideal for lower ceilings—touch to control the LED illumination and three fan speeds.
Broan 30-Inch Ductless Under-Cabinet Range Hood
The high-quality 30-inch stainless steel hood insert enhances illumination and ventilation over your stove while efficiently removing smoke and odor. It should be 18 inches above the stove. It is the best ductless range hood with a chargeable charcoal filter that captures all the grease emitted while cooking. Controls are provided for the two fan speeds as well as the light. This ductless range hood may be hardwired or fitted with an optional power cable kit.
Cosmo QS75 Under Cabinet Convertible Range Hood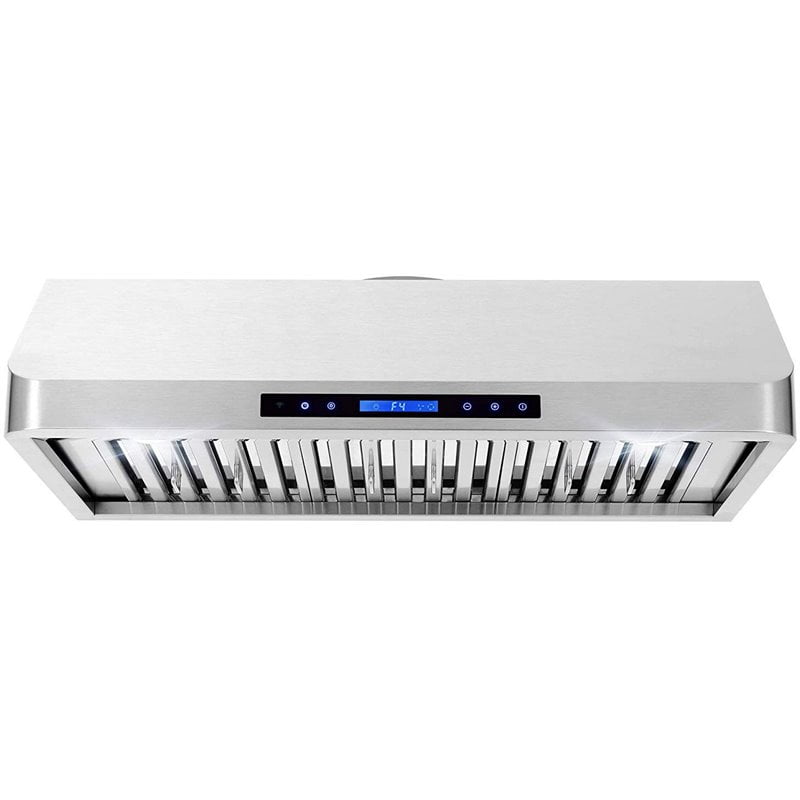 It is a contemporary, top-vented best 30-inch under cabinet range hood suitable for households with space constraints. It effortlessly fits into any cabinet and is constructed of superior glossy stainless steel that compliments your kitchen equipment for an appealing appearance. It has four fan settings and two 1.5-watt LED lights. It also has dual centrifugal 500 CFM arc flow motors and quality stainless steel baffle filters to catch grease and oil.
Mabon Range Hood Insert
This 36-inch best ductless range hood insert comprises professional high-grade coated stainless steel with a metal fan. With its persistent filters, the hood component fits into the 6-inch circular duct but is also suitable for ductless ventilation. Charcoal filters are good for removing fat and odor from cooking gases.
Cosmo Cos – 5MU30 Under Cabinet Ductless Range Hood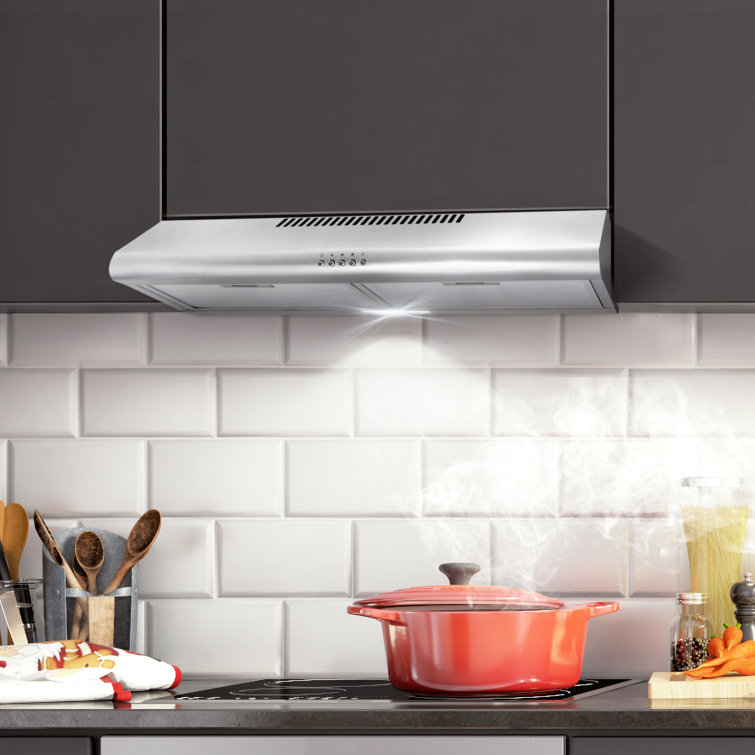 This item is a contemporary, professional 30-inch best-range hood under-cabinet that will add style to your kitchen. It is made of high-brushed, 430-grade, and 20-gauge stainless steel complements your kitchen. It is suitable for top or back venting and, with an added carbon filter kit, may be converted into a ductless range hood. This hood is power-saving and includes high brightness LED lights for all-year savings. It has three speeds: low, medium, and high.
FAQs
How do you clean a ductless range hood?
First, assess the amount of dirt. Warm, soapy water is required regardless of the materials used to construct your ductless range hood. To clean the exterior, use warm, clean rags or paper towels. Set a big saucepan on the stove to boil to dislodge any gunk or trash. Wipe away the cleanser with warm cloths and ensure to wipe it off with a warm, damp cloth.
How do you measure for a ductless range hood?
Take your measuring tape and begin. Determine the width of your cooktop. Next, determine the width of the space between the cabinets where the hood will be installed. It would help if you also took measurements of the area's height above your range. Lastly, determine the depth of the cooktop from back to front (exclusive of control panel and trim).
What is the difference between a ducted and ductless range hood?
Ductless range hoods often have less suction than ducted range hoods but are also less loud. Ductless range hoods are inexpensive to buy and install. Ducted range hoods are more efficient in terms of air quality. On the other hand, Ductless range hoods are useful in cold climates. Because they recirculate filtered kitchen air, they cause very little heat loss.
Final Words
A range hood is essential in every modern house kitchen. The best ductless hood will help maintain the air quality in your house safe by sucking in the majority of the fumes produced while cooking. Convertible hoods readily exchanged between ducted and ductless hoods are also available. You may select one of these five finest ductless range hoods from various alternatives for a smooth and healthy cooking experience.